Free Video to JPG Converter è un programma gratuito che consente di convertire video in immagini di formato JPG. In altre parole, è un software in grado di catturare le immagini da un qualsiasi video file.
In questo articolo vediamo quali sono i passi da seguire per effettuare questa conversione video in immagini jpeg.
1) SCARICA FREE VIDEO TO JPG CONVERTER
2) Avvia il programma
Di seguito la schermata principale del programma: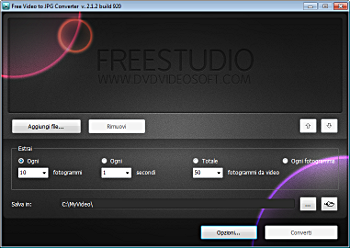 Passo 3. Seleziona i video file di input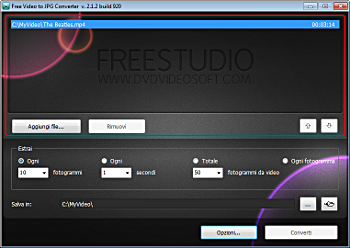 Clicca sul bottone "Sfoglia…" e seleziona i(l) video file di input dal tuo computer che desideri convertire in immagini jpeg.
Passo 4. Seleziona la cartella di output
Clicca sul bottone di sotto Sfoglia… . Scegli la cartella in cui vuoi salvare i tuoi snapshot. Clicca su OK.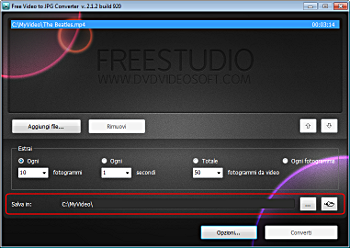 Passo 5. Configura le opzioni "Estrai"
Seleziona i fotogrammi che vuoi salvare come gli snapshot.
Per esempio, puoi estrarre ogni centesimo fotogramma, i fotogrammi ogni 10 secondi, totale 50 fotogrammi o perfino ogni fotogramma.
Nota: Sii attento con l`opzione "Ogni fotogramma". La dimensione totale delle immagini estratte può essere molto di più della dimensione dei file di input!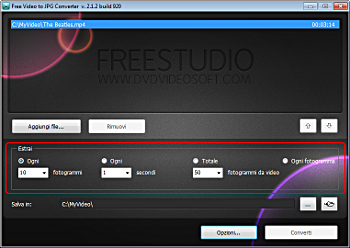 Passo 6. Estrai i fotogrammi
Clicca sul bottone Estrai ed aspetta finché le immagini siano estratte.
Nota: Prima di cliccare sul bottone Estrai puoi applicare la funzione "Se il processo è stato completato, spegnere il computer". Per farlo clicca su Opzioni… e assicurati che la casella appropriata sia spuntata.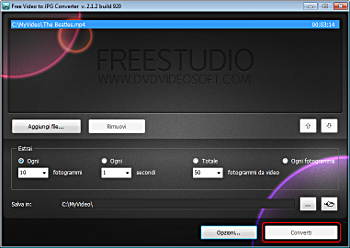 Articoli Correlati: